Product Description
VACUFLEX Floor Scurbber Hose
VACUFLEX Floor Sweeper Dust Suction Hose is our Model MG-V-FLEX with steel wire reinforcement.
Light weight and highly flexible hose of Premium-PVC, with highly flexible; light; excellent properties.

Model MG-V-FLEX could be applied for Floor care machinery Hose as floor scrubber hose; Sanitation vehicles hose as floor sweeper hose.
Structure: Outer bore of Soft Premium-PVC, reinforced with PVC coated spring steel spiral, welded to outer bore

Characteristics: Light weight and highly flexible hose, excellent mechanical properties because of special production process, good chemical resistance

Outer rips structure to increase mechanical strength and to improve abrasion stability. In addition better gliding effect in particular over smooth surfaces (Skiing effect)

Applications: Cable protection hose, air ducting, suction/blow or transportation hose, especially feasible for high end vacuum cleaners and industrial scrubbers

Temperature range: -10°C to +70°C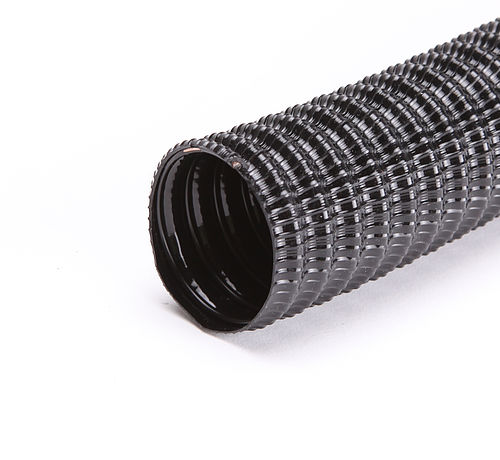 Company
VACUFLEX is an independent company of the Schauenburg Hose Technology Group and a specialist in the production of thermoplastic hoses and production lines for thermoplastic hoses lines with production sites in Germany and China.
Highly flexible and reinforced thermoplastic hoses from 8 - 500 mm int. diam. have been produced for the last five decades. VACUFLEX products are used in many different industries, such as:
Automotive industry
Household and electrical applications
Air conditioning
Machinery and Equipment
Medical technology
Sanitary Technology
The product range includes a comprehensive standard range as well as customized special designs in different colors, material settings and shapes.